Who are we?
The Ethical Butcher at The Spurstowe Arms
We are an online business selling regeneratively farmed meats online to the whole of the UK.
Our business fundamentally challenges the notion that animal farming is harmful to the environment as our producers use nature friendly methods that increase biodiversity and improve soil fertility breathing life back into the land.
We have based the menu at The Spurstowe Arms on some of our favourite cuts and recipes with a new steak selected every week.
Why we're different
Regenerative Agriculture
What is Regenerative Agriculture
We have based our business on Regenerative Agriculture' but what exactly is it?
In a nutshell it is agricultural methods that improve land being farmed. 
This is farming in ways that respect nature and work with natural systems instead of trying to control them.
More specifically, Regenerative Agriculture is a holistic land management practice that leverages the power of photosynthesis in plants to close the carbon cycle, and build soil health, crop resilience and nutrient density. 
Regenerative agriculture improves soil health, primarily through the practices that increase soil organic matter. This not only aids in increasing health and increases biodiversity both above and below the soil surface, while increasing both water holding capacity and sequestering carbon at greater depths, thus drawing down climate-damaging levels of atmospheric CO2, and improving soil structure to reverse civilization-threatening human-caused soil loss. 
In the best cases these systems can be carbon negative meaning they are drawing more carbon from that atmosphere through plant growth than is released in production though animal respiration, the burping through rumination and limited use of fossil fuels on the land.
How does this differ from conventional agriculture?
Conventional farming, also known as industrial agriculture, refers to farming systems which include the use of synthetic chemical fertilizers, pesticides, herbicides and other continual inputs, genetically modified organisms, concentrated animal feeding operations, heavy irrigation, intensive tillage, or concentrated monoculture production. Thus conventional agriculture is typically highly resource-demanding and energy-intensive, but also highly productive. Despite its name, conventional agricultural methods have only been in development since the late Nineteenth Century, and did not become widespread until after World War 2.
In a conventional system biodiversity is deliberately reduced to provide the crop with as much of the available resources, such as nutrients, water and sunlight as possible.
These practices not only improve ecological health, but also the health of the animal and human consumer through improved micro-nutrients availability and better dietary omega balances. 
240g steak from Cheswell Grange Farm 100% pasture raised, regeneratively produced Angus cattle, watercress and radish salad.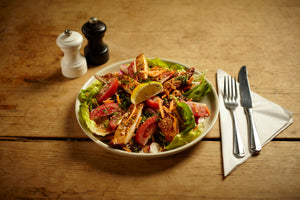 Grilled soy free chicken, seaonal leaves, walnut dust, lemon dressing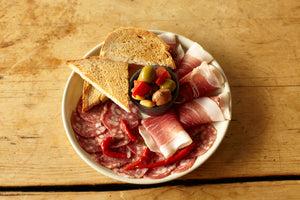 British charcuterie from regenerative agriculture. Sourdough from The Bread Station.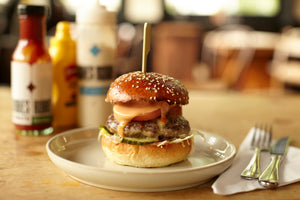 Ethical Butcher regeneratively certified beef patty, pasture-fed cheese, homemade relish, onion, iceberg, house pickle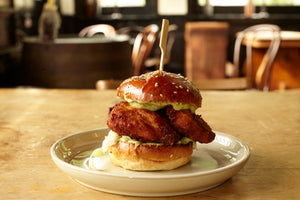 Ethical Butcher buttermilk chicken, charred spring onions, watercress mayo, The Bread Station brioche bun
Seasonal and British
Our menu
Our menu changes frequently with regular updates. We source as much as possible from the UK with minimal impact.
Download PDF of menu